Northern Renaissance Instruments
6 Needham Avenue, Chorlton-cum-Hardy, Manchester M21 8AA, U.K.
Phone & Fax. +44 (0) 161 881 8134 ; proprietor: Dr. Ephraim Segerman [USA]
e-mail: post@nrinst.co.uk ; web: http://www.nrinst.co.uk
INSTRUMENTS OTHER THAN LUTES AND VIOLS
Instruments made by either
John Duncalf (better known for his lutes and viols) or
Neil Brook (better known for his hurdy gurdys and flageolets)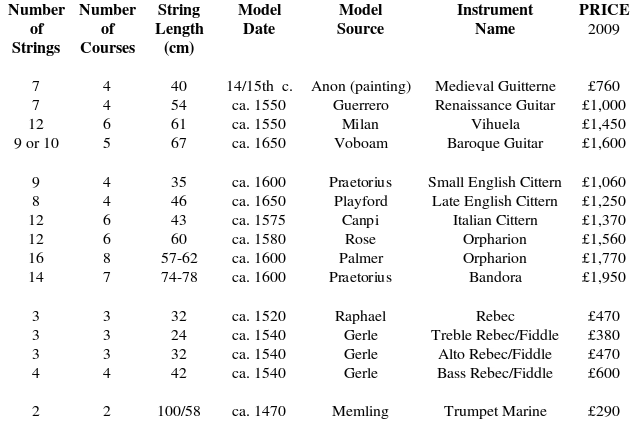 The prices here are for instruments made with minimum decoration that can be justified historically. This includes roses cut in parchment and/or wood (and tiles set in the soundboard of the vihuela) of original complexity on all of the plucked instruments, and heads carved in wood for most. Extra decoration can be added at extra cost. Most other early stringed instruments can be ordered as well - ask for a quotation.
INSTRUMENT ORDERING PACKING AND TRANSPORT
We make instruments to order, not for stock. This allows for variations of materials and appearance to suit customer preferences. When not given such preferences, we choose the closest we can to the historical original model. The instruments we make are exceptional in that they are not our own creations based on an original design concept, but rather as close as we can get to reconstructing a particular original instrument. In most cases, the information available to us about the original instrument is incomplete, so we use our extensive knowledge about design details of surviving original instruments and their acoustics to complete the design.
This design exercise has already been done for all of the instruments included in our catalogue listings, and quite a few others. If a customer wants a different type of instrument than those in the listings, we would be glad to make it, but the customer may be asked to pay for the costs of our acquiring the relevant information about the instrument if we do not already have it. A quote for this should be requested, specifying the particular original, or at least specifying the historical repertoire that the instrument is intended to play.
Regarding conditions of payment, a deposit of 20% is required when the order is placed. This deposit secures a place in the queue, and is fully refundable if the order is cancelled before we have started work on the instrument, but not afterwards. When the instrument is near completion, the customer will be sent an invoice for the remainder of the price of the instrument, plus the cost of strings, the cost of a case (if ordered) and transport costs. On receipt of payment of this invoice, the instrument will be sent as soon as possible. If the strings are made by us, there will be a 35% discount on current NRI prices. If the strings are not made by us, the current list prices of those strings in the U.K. are charged. If a case is not ordered, we will either lend a case for transport, and that case must be returned, or charge for a strong box to ship it in.
There is no VAT charged on our products. While the instrument is being made, we will ask whether a carrying case is desired, and if so, we will get a quote from a case maker and ask if it is acceptable.
We do not offer bows with our bowed instruments. The choice of a bow is a very personal matter for experienced players, and inexperienced players are advised to follow the advice of their teachers. We will be glad to offer advice on historical bow designs, and on some bow makers.
PAYMENT
We only accept cheques or money transfers that go through a U.K. bank and are in £ (pounds sterling). We are equipped to accept credit cards, but the cost of their use for instruments cuts deeply into the small fraction of the instrument's price that we take for administrative costs (the rest goes to the maker). Consequently, we will only accept credit-card payment if an extra 5% is added to the price of the instrument.
We accept Visa and Mastercard credit and debit cards and Maestro and Solo debit cards. For security, the card information should be given to us by phone, fax or post.
We can accept cheques, money orders or bank drafts only if they are in £ (pounds) Sterling that go through a U.K. bank.
Payment can also be made directly to our NRI account 81389955 at the HSBC bank at 577 Wilbraham Rd,, Chorlton-cum-Hardy, Manchester M21 1AH, U.K.; sort code: 40-31-17, IBAN: GB34MIDL40311781389955, BIC: MIDLGB2144P.